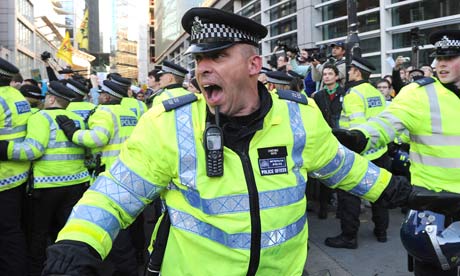 Students are planning a wave of campus occupations and protests in the run-up to nationwide strikes next week, the Guardian has learned.
Occupations called by the student group National Campaign Against Fees and Cuts (NCAFC) ahead of the trade union day of action on 30 November have already happened at Birmingham and Cambridge universities.
Higher education minister David Willetts had to abandon a speech on the Idea of University on Tuesday night after students heckled him from the stage and began occupying Cambridge's largest lecture hall.
The occupations, in opposition to the government's white paper on education reform, which would formalise the £9,000 rise in tuition fees, are expected to break out across the country.
NCAFC said that occupied lecture halls and buildings would act as bases for students to plan further action backing strikes by about 3 million public sector workers – expected to be the biggest day of industrial action since the winter of discontent in 1979.
The group's co-founder, Michael Chessum, said: "It's all terribly unpredictable. We may well see actions and occupations popping up all other the country today and in the coming week."
In front of an audience of more than a hundred, Willetts was forced to sit in a corner of the stage of Lady Mitchell Hall, as students read out a prepared statement.
Student James Jackson said activists from Cambridge Defend Education read out a prepared statement which was repeated sentence by sentence by other demonstrators in the audience – a technique used by Occupy activists.
Making reference to recent student protests in which the Metropolitan police said baton rounds could be used to prevent disorder, the statement said: "You can threaten to shoot us with rubber bullets; you can arrest us; you can imprison us; you can criminalise our dissent; you can blight a hundred thousand lives … but you cannot break us because we are more resolute, more numerous, and more determined than you … Go home, David."
After sitting on the stage, they eventually forced the minister's departure.
"At first Willetts seemed to want to carry on," Jackson said. "After the second minute he sat in a corner then [the organisers] closed the blinds on him, still waiting for us to stop and leave. When we didn't, I think he decided it was time for him to go and so he just left."
Jackson, 21, who is reading art history, said that after Willetts' departure the group occupied the hall and were now receiving support from academics who were bringing them food and supplies.
Silkie Carlo, 22, studying psychology, who was also part of the action said : "Cambridge is serious about defending education. Particularly from an institution that is seen as upper middle class, the most privileged students, it's important that we understand that the rise in fees affect us and the progress of the university. We don't want to study in that kind of place."
In the early hours of Wedenesday, Birmingham students occupied an abandoned gatehouse on the northern edge of their campus, where they plan to hold a series of lectures.
From the Guardian newspaper