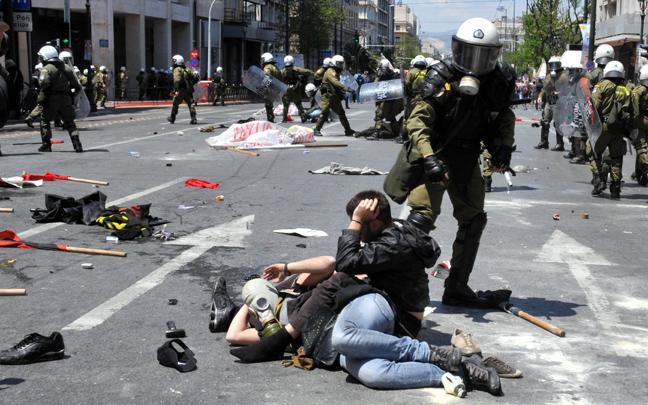 Na de moordlustige politiegeweld in Griekenland van gisteren hebben studenten de universiteit van Athene bezet en omgebouwd tot informatie en mobilisatiecentrum.
In Utrecht wordt vanavond (12 mei) ook een demonstratie georganiseerd tegen het politiegeweld tijdens de 1 mei demonstratie in Utrecht. We zullen ook onze solidariteit uitspreken met de Griekse demonstranten.
Lees hieronder meer over de bezetting van de Universiteit in het Engels:
First announcement from the occupied Refectory building in Propylaea, Athens (via contra-info)
In the May 11th general strike demonstration, thousands of protesters voiced their opposition to the Greek government's anti-social measures which directly affect workers. While the predatory policy of the 'Troika' along with the cooperating Greek government, is pushing even larger sections of society in absolute poverty and destitution, the riot police forces are attacking demonstrators with fury.
In the demonstration of May 11th and while a big part of the demonstrators had passed the parliament and were heading to Propylaea (Panepistimiou Str.), the cops attacked furiously and unprovocably against various blocks of demonstrators (neighborhood assemblies, rank'n'file labour unions, anarchists/anti-authoritarians, extra-parliamentary left) beating them wildly and firing tons of tear gas. More than 100 demonstrators were transferred to general hospitals (Nikaia, 'KAT', 'Evangelismos'), while three of them underwent surgery.
Comrade Yannis K. has been murderously attacked by the repression forces. Wounded and with a bleeding head, he began to move away from Panepistimiou Street along with another demonstrator. Going down Amerikis Street, at the height of Stadiou Street, they entered into a porch where people who were present saw him bleeding. He was then transferred in antemortem condition (according to the hospital doctors union's press release) at the General Hospital in Nikaia suffering from an internal head bleeding. He was directly operated and hospitalized in intensive care, in a coma situation.
While this text is being written, the formal mechanisms of manipulation, along with their regimes' apologists are intensively trying to present the murderous attack as an 'injury under unclear circumstances' relieving thereby the principals and instigators (Greek state, repression forces).
The memory of December 08 revolt is turning like an ax over the heads of the rulers, that tremble while facing the possibility of a new social explosion. Alongside, the repression forces in close cooperation with members of extreme-right organizations, have launched a coordinated pogrom against political milieus and squats (Villa Amalias, Patission 61 & Skaramaga squat), attempting thereby to disrupt the 'enemy within' by sending messages of terror and fear to anyone who fights back.
Today, May 12th, at 9 o'clock, we occupied the Refectory of University of Athens in Propylaea, in Panepistiniou Str., in the centre of Athens. We have already converted the building and the courtyard in front of it into a counter-information centre and a front of struggle, as an embankment to the States' invasion and capitalist brutality.
NO PERSECUTION AGAINST THE ARRESTED
OF THE MAY 11th GENERAL STRIKE

WAR BY ALL MEANS AGAINST THE STATE-MURDERER
CALL FOR AN ASSEMBLY IN THE OCCUPIED REFECTORY BUILDING
AT PROPYLAEA, RIGHT AFTER THE END OF THE DEMONSTRATION
(THE DEMO WILL BEGIN AT 18.00)
Anarchists/Anti-authoritarians from the occupied ground of the Refectory building (Propylaea)